Sunday, November 29, 2015
Well, they're gonna get thrown out of the "
tribe
."
At
WSJ
:
The single most important benchmark underpinning this week's talks in Paris on climate change—two degrees Celsius—has guided climate-treaty discussions for decades, but some scientists question the validity of the target.

Many researchers have argued that a rise in the planet's average global air temperature of two degrees or more above preindustrial levels would usher in catastrophic climate change. But many others argue that is a somewhat arbitrary threshold based on tenuous research, and therefore an impractical spur to policy action.

"It emerged from a political agenda, not a scientific analysis," says Mark Maslin, professor of climatology at University College London. "It's not a sensible, rational target because the models give you a range of possibilities, not a single answer."

Policy makers tend to assume the two-degree target expresses a solid scientific view, but it doesn't. The exhaustive reports published by the United Nations Intergovernmental Panel on Climate Change are considered to be the most comprehensive analysis of the science of global warming. Yet the two-degree limit isn't mentioned in a single IPCC report.

Still, many scientists are willing to back the goal because they see it as giving policy makers a clear-cut target to shoot at in the fight against global warming...
Okay, so far so good. But then you get this doozy:
Most climatologists agree that the earth is getting warmer and that the emission of greenhouse gases is the main driver of this change. But the question of when a catastrophic tipping point might be reached is up in the air...
Um, greenhouse gases are
not
the main driver. Frankly, we don't know what the main driver is. It could be anything. We're talking about the whole damned earth and the freakin' solar system. The number of possible variables is staggering.
But Professor Maslin's right: It's a political agenda, not a scientific program.
But
keep reading
.
Posted by

Donald Douglas
at 2:25 PM
0 comments
Links to this post


Saturday, November 28, 2015
Posted by

Donald Douglas
at 4:20 PM
0 comments
Links to this post


Posted by

Donald Douglas
at 3:15 PM
0 comments
Links to this post


Posted by

Donald Douglas
at 3:10 PM
0 comments
Links to this post


At IBD, "
Has Black Friday Jumped the Shark? Importance Fading?
":
Black Friday's importance as the key shopping day of the year is ending, observers say, as Thanksgiving Day sales zoom and easy mobile shopping makes other days just as important.

The strong trend of online sales growth far surpassing offline sales continues, though.

Cowen analyst Oliver Chen estimates that while online traffic during Black Friday weekend will rise 20% vs. a year earlier, in-store traffic will fall 2% to 4%.

Online sales have enjoyed double-digit growth rates since the dawn of the e-commerce era.

Adobe Systems' (NASDAQ: ADBE) Adobe Digital Index, which says it measures 80% of all online transactions from the top 100 U.S. retailers, said sales between midnight and 11 a.m. ET Friday rose 15% from the year-earlier period, to $822 million.

Thanksgiving Day online shopping, however, jumped 25% vs. Thanksgiving 2014, to $1.72 billion.

Third-party sales even on top site Amazon.com (NASDAQ: AMZN) grew far greater year-over-year on Thanksgiving than they will on Black Friday, Scot Wingo, executive chairman of Channel Advisor (NYSE: ECOM), a firm that helps third parties sell on e-com sites, told IBD.

"Thanksgiving came on the scene two years ago, and it's really blown the doors off," Wingo said. Black Friday growth, on the other hand, was "OK," he said.

"This is the year we'll look back and say Black Friday jumped the shark," Stephen Baker, an analyst at NPD Group, told IBD...
Still
more
.
Posted by

Donald Douglas
at 2:20 PM
0 comments
Links to this post


Posted by

Donald Douglas
at 1:30 PM
0 comments
Links to this post


Posted by

Donald Douglas
at 1:15 PM
0 comments
Links to this post


From Lee Stranahan, at
Big Government
.
And more video from yesterday's protests:
Posted by

Donald Douglas
at 1:00 PM
0 comments
Links to this post


We're seeing something of a culture shift away from this monstrosity of a shopping day.

At CBS News 2 Los Angeles:




Posted by

Donald Douglas
at 12:55 PM
0 comments
Links to this post


This one's also on my Christmas list.
I love books!
At Amazon,
Winter Is Coming: Why Vladimir Putin and the Enemies of the Free World Must Be Stopped
.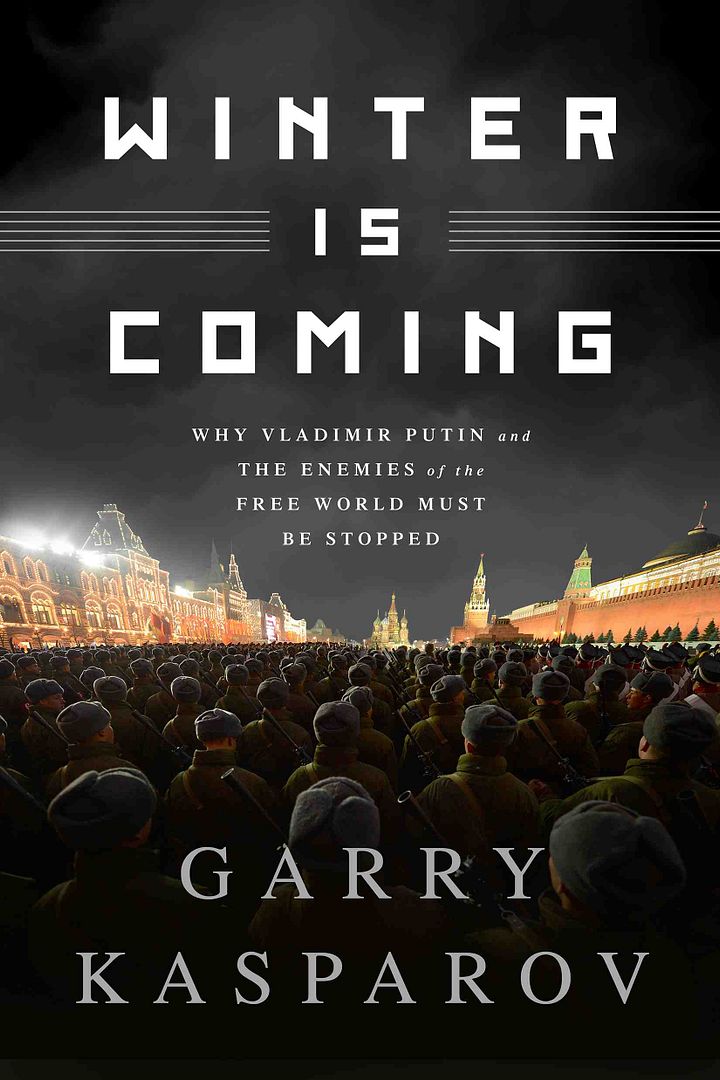 Posted by

Donald Douglas
at 12:50 PM
0 comments
Links to this post


Following-up from yesterday, "
Planning for #ParisAttacks Hatched in Plain Sight
."
And here's the latest on that, at WSJ, "
Slovakian Shop Is Eyed as Source of Guns in Prior Terror Attacks
":
PARTIZANSKE, Slovakia—For more than two decades, a store in the basement of a Soviet-style building here has sold deactivated weapons and replica Nazi uniforms to private collectors or for use as movie props.

This year, it has also been a source for weapons that European security officials say were later reactivated and used by jihadists in at least two terror attacks on the continent, a chilling exploitation of Europe's fragmented gun laws.

European security officials said decommissioned guns purchased legally from the AFG store, owned by AFG Security Corp., have been transferred to safe houses in Western Europe, primarily Belgium, a known weapons-trading hub. Jihadists used weapons sold by AFG and reactivated in Belgium in a three-day spate of terror attacks in Paris in January, the officials said, as well as in an attack on a French high-speed train in August, foiled when the culprit was tackled by passengers after his gun misfired.

"The AK-47 type automatic gun used in the thwarted Thalys [train] attack came from the same provider as the guns used in January," a French police officer close to the matter said. "The gunmen didn't get the guns themselves directly in Slovakia, but from intermediaries in Belgium."

In a recent interview from behind the counter at AFG, Frantisek Gajdos, the 24-year-old son of the store's owner, said the business hadn't broken any laws. "We sell these guns to many people, and some of them are foreigners," he said. "But that's legal."

Slovakia's laws governing decommissioned weapons have long been less restrictive than elsewhere in Europe. Until recently, these weapons were sold legally to anyone over 18 years old, no license required. Although it is illegal to restore them in Slovakia, doing so isn't as difficult as it is with weapons bought in other European countries, according to gun experts and Slovak officials.

Denmark decommissions weapons by sawing them in half; Italy fills the barrels with lead. Guns sold in Slovakia had their barrels perforated with a pin, a step gun experts said could be defeated by changing the barrel.

In July, six months after the first Paris attacks, Slovakia's government tightened the laws on selling and reactivating decommissioned weapons, which experts say will make it more difficult, but not impossible, to restore such arms. Last week, the European Commission said it would tighten legislation to ensure deactivated guns couldn't be easily restored...
Well, more gun laws won't stop terrorism. There's a freakin' weapons pipeline from Eastern Europe into the EU nations. Expect more jihad terrorism.
But
keep reading
.
Posted by

Donald Douglas
at 12:45 PM
0 comments
Links to this post


From Michelle Malkin, "
Have a Happy, Politics-Free Thanksgiving
":
Many people naturally assume that since I work in political journalism, I must breathe, drink and eat politics 24/7/365 — including on the Thanksgiving holiday.

The thought of it gives me indigestion.

Self-absorbed creatures who have no life outside the Beltway world are the most tiresome ogres. White House Press Secretary Josh Earnest advised Americans "sitting around the Thanksgiving table" to talk about gun control. The left-wing National Memo published "5 Things To Tell Your Republican relatives at Thanksgiving." And The New York Times served up its own version of "How to Talk to Your Relatives About Politics at Thanksgiving," stuffed with poll data and hyperlinks to other liberal sources of information.

Nobody needs tryptophan when you've got Pundy McPundit (amateur, professional or otherwise) at the table to bore your company to death with his or her insights on "climate-proofing" your holiday feast; bombard you with details about Bernie Sanders' latest Web ad; regurgitate John Kasich's latest attacks on critics of his massive Medicaid expansion; or champion Jeb Bush's latest re-re-re-reboot (two exclamation points, new talking points, a fix-it toolbox, blah, blah blah).

Zzzzzzzz.

I feel sorry for rabid partisans on either side of the aisle who refuse to talk to family members, co-workers or friends who support a candidate they don't like. Life's too short — and 99 percent of all politicians are crapweasels, anyway.

I've encountered unhinged hotheads who yelled at me in front of my kids at IHOP over my appearances over the years on Fox News. Way to ruin a Funny Face Pancake moment, one-dimensional oafs.

And I've known people who shunned my left-leaning in-laws because they refused to denounce their conservative daughter-in-law. Gotta love the Tolerance Brigade.

Newsflash: Even amid a heated campaign season, global jihadist terror and economic insecurity, there is more to life than #WINNING political arguments.

It shouldn't be a struggle to avoid yelling about Bush, Clinton or Trump as you pass the sweet-potato casserole. Don't get mad. Get perspective. Here, let me help:

If your children are alive, free and healthy, count your blessings and say a prayer for all those parents spending the holiday week in hospitals, hospices, clinics, jails or funeral homes.

If you can't think of something nice to say to the person sitting next of you, trade memories of the dearest, departed loved ones you share a connection with who are no longer sitting at the table at all.

Pick up an instrument and play music together or sing some old hymns of Thanksgiving ("We Gather Together" was always my favorite).

Take a walk, breathe fresh air, go out on the deck and make fire pit s'mores (or use the gas grill).
Show the young ones at your gathering how to make rubberband stars, advanced paper airplanes, origami hearts or crochet snowflakes.

Get silly. Play "Charades" or "Spoons" or "Balderdash." Laugh at yourself and laugh with your relatives.

Don't take family time for granted. Ever...
Well, I'm
not forgetting
.
I took my 14-year-old son to see "
The Hunger Games
" yesterday. We had fun, although those Katniss movies aren't the same without the actual "Hunger Games" in them, heh.
In any case, still more
at Michelle's
.
Posted by

Donald Douglas
at 12:35 PM
0 comments
Links to this post


Following-up from Thanksgiving, "
UCLA Bruins Riding the Wave of College Football's Crosstown Rivalry in Los Angeles (VIDEO)
."
See the O.C. Register, "
USC-UCLA about more than bragging rights this year
":
LOS ANGELES – Forget bulletin board material.

The lead-up to Saturday afternoon's UCLA-USC rivalry game offered little as far as shots or verbal sparring between the players and coaches.

"I'm not too big into rivalries and hate for another school," USC's two-way star Adoree' Jackson said. "I've got much love and respect for those guys over there."

Among the Bruins, they hardly expressed love, but they avoided needling their crosstown counterparts. No one publicly said "Southern Cal," a name unpopular among USC fans and officials, so much so that the school's media guide explicitly requests it not be used.

During his first few years as UCLA coach, Jim Mora rarely turned down the opportunity to utter the term.

But the Bruins have moved on.

"We're finger tips away from what we've worked so hard for," UCLA sophomore linebacker Kenny Young said.

Both No.22 UCLA and USC go into this game knowing a win gives them the Pac-12 South title and a rematch with Stanford.

The winner advances to the Dec.5 conference title game in Santa Clara against the Pac-12 North champion Cardinal, which has been a thorn in the side of both programs lately. Stanford has won eight straight against the Bruins (8-3, 5-3 in the Pac-12) and five of the past seven against the Trojans (7-4, 5-3).

"It's really not about the rivalry," USC senior defensive tackle Antwaun Woods said. "It's about fixing our errors. We're not really worried about them or the rivalry."

Clearly, much more than city bragging rights are at stake.

A win will be a narrative-shaping moment for either side, adding to USC interim coach Clay Helton's case to take the reins on a full-time basis or putting Mora in position to win his first Pac-12 championship in his four seasons in Westwood. The former NFL coach has had little trouble putting away the Trojans, winning all three previous meetings by double-digits, but he has yet to beat either of the North Division heavyweights, Stanford and Oregon...
More
.
Plus, at the Los Angeles Times, "
UCLA and USC paths were filled with rocks but still could be strewn with roses
."
Posted by

Donald Douglas
at 12:25 PM
0 comments
Links to this post


Definitely a sad day in Colorado, and for the nation.
At the New York Times, "
During Planned Parenthood Shooting, Fear and Chaos at Shopping Center
."
Leftists were off the bat faster than a Mike Trout long ball, politicizing the shooting to advance the far-left extremist agenda.
See Leon Wolf, at Red State, "
Planned Parenthood Shooter Finally Convinces Leftists that Beliefs Matter
." And at Gateway Pundit, via Memeorandum, "
COURT RECORDS: Colorado Planned Parenthood Shooter NOT Republican, Identifies as Woman
."
Sounds like a leftist, heh.
More at CNN, "Rocky Mountains CEO Vicki Cowens says she has no reason to believe that their Colorado Springs facility would be targeted by a gunman":
Posted by

Donald Douglas
at 12:05 PM
0 comments
Links to this post


Friday, November 27, 2015
This story is still front-page news, almost two-weeks later.
At WSJ, "
Paris Attacks Plot Was Hatched in Plain Sight
":
BOBIGNY, France—Three days before the attacks that ripped through Paris, Djazira Boulanger handed the keys to her row house, across the street from a kindergarten, to a guest who had booked it over the website Homelidays.com. His name was Brahim Abdeslam.

She didn't know that Mr. Abdeslam was a central figure in plotting the deadly assault. As Ms. Boulanger tended to her two young children at home, authorities say Mr. Abdeslam and a band of cohorts were down the street preparing weapons for an assault on the Stade de France and Paris's nightlife district.

"Did I suspect something was wrong? Not at all," Ms. Boulanger said.

A day after he checked in, Mr. Abdeslam's younger brother, Salah, pulled up to the roadside hotel Appart'City on the southern outskirts of Paris, according to staff, to claim reservations he made on Booking.com—also under his own name. The rooms were for another set of gunmen in the attacks: those assigned to mow down spectators inside the Bataclan concert hall.

Prosecutors suspect the brothers were preparing the logistics for Abdelhamid Abaaoud, the alleged architect of the massacres, to arrive in Paris and swiftly mount one of the deadliest terror attacks in French history. Brahim would later blow himself up during the attacks, while Salah is now the target of an international manhunt.

Mr. Abaaoud was the kind of adversary France had dreaded since the Syrian conflict began drawing European nationals in droves. Mr. Abaaoud—who would die several days after the Paris attacks in a police raid—drew on his experience as a battlefield logistical officer in Syria to launch a guerrilla-style ambush on unarmed civilians in the French capital.

The account emerging from French officials, witnesses and those who interacted with the suspected terrorists shows how the operation hinged on Mr. Abaaoud's ability to use the tools of everyday modern life to lay the groundwork for the massacre. The ease with which he and his teams moved—all while avoiding detection by France's security apparatus—suggests the challenges in identifying would-be terrorists and preventing further attacks in the fluid, digital and transnational world of today, especially when they are European citizens...
That doesn't inspire much confidence, now does it?
Keep reading
.
Posted by

Donald Douglas
at 4:10 PM
0 comments
Links to this post


Posted by

Donald Douglas
at 3:45 PM
0 comments
Links to this post


Posted by

Donald Douglas
at 3:35 PM
0 comments
Links to this post


Posted by

Donald Douglas
at 3:25 PM
0 comments
Links to this post


Well, there goes another angelic-black-protester-gunned-downed-by-racist-white-cops narrative.
See Robert Stacy McCain, "
The #LaquanMcDonald Farce
":
Laquan McDonald had PCP in his system on Oct. 20, 2014. We know this from the autopsy performed after McDonald, 17, decided to exercise his constitutional right to vandalize cars and stagger down the middle of Pulaski Road, brandishing a knife at the Chicago police officers who were trying to arrest him. The coroner's conclusion was that the cause of Laquan's death was institutional racism...
Keep reading
.
RELATED
: At the Chicago Tribune, "
Protesters, joined by the Rev. Jesse Jackson and the leaders of the Chicago Teachers Union, marched down the Magnificent Mile on Black Friday in support of police shooting victim Laquan McDonald and called for the resignation of police Superintendent Garry McCarthy
."
Plus, video at Ruptly, "
Protesters disrupt Black Friday shopping demanding justice for Laquan McDonald
."
Posted by

Donald Douglas
at 3:05 PM
0 comments
Links to this post


Posted by

Donald Douglas
at 5:55 AM
0 comments
Links to this post


Suggestions, at Free Beacon, "
It's Not All Doom and Gloom: Holiday Book Buying for 2015
":
Politics, history, literature, sci-fi, fantasy, classics, and more.
I don't see it there, but check out
Diary of a Minecraft Zombie Book 1: A Scare of A Dare (Volume 1)
.
Maybe I'll get that for my kid, heh.
More books at
Amazon
.
Posted by

Donald Douglas
at 5:50 AM
0 comments
Links to this post


Posted by

Donald Douglas
at 5:05 AM
0 comments
Links to this post


Well, it hasn't completely lost its edge, what, with all
the Black Friday brawls
.
But with fewer outlets participating in the super-duper early-bird crush of pre-dawn sales, it's getting to be less of a thing.
At the New York Times, "
Black Friday Falters as Consumer Behaviors Change
":
In 1939, the nation's largest retailers sent Franklin D. Roosevelt an urgent plea. Thanksgiving fell on the last day of November that year, giving merchants too few days before Christmas to unleash the season's sales.

The holiday might be a time-honored tradition, but wouldn't Mr. Roosevelt consider moving the day up by a week?

The president's acquiescence to retailers helped cement the pre-eminence of the post-Thanksgiving sales rush, now known as Black Friday. The day became an annual ritual, a family affair — a shopping orgy that delivered big profits for retailers, as well as a lift to the entire economy.

Seven decades later, Black Friday has lost its distinctive edge. Tens of millions of Americans will still hit the malls this Friday. But the relentless race for holiday dollars has blunted the day's oomph, as stores offer deep discounts weeks before Thanksgiving and year-round deals in stores and online are causing sales fatigue. Some fed-up shoppers cheered this year when the outdoors retailer, REI, declared it was opting out of Black Friday sales altogether.

On the eve of yet another Thanksgiving weekend, retail experts and economists are asking the question: Is Black Friday over?

"It definitely matters so much less than it's mattered in the past," said John J. Canally, chief economic strategist at LPL Research. "The last couple of years, 'Black Friday disappoints' has been the usual story."

But contrary to doom-and-gloom predictions this holiday season, dwindling sales for the long Thanksgiving weekend (which now begins Thursday afternoon) do not necessarily signal a cautious consumer. Americans are generally spending just as much of their hard-earned dollars as in the past.

Overall consumer spending since the beginning of 2014 has risen at a rate of 3 percent after lackluster gains in 2012 and 2013, and most stores achieve decent profits, on an earnings per share basis, during their holiday quarter.

The decline of Black Friday instead points to a shift in the way consumers spend their money.

"They're online," Mr. Canally said. "And they're spending more on experiences. A day at the spa, a baseball game, the ballet — rather than a sweater or a pair of socks that no one wants."

As a result, retailers rang up $51 billion on the day after Thanksgiving last year, down from a peak of almost $60 billion in 2012, according to the San Diego-based private equity firm LPL Research, which crunched data from the National Retail Federation and comScore...
More
.
Posted by

Donald Douglas
at 4:55 AM
0 comments
Links to this post


It's almost impossible to believe that someone would actually steal this little girl's custom wheelchair. It cost the family $1,500 and would have been difficult for them to replace.
But now they're received a charitable gift, just in time for the holidays. That's the spirit.
At the O.C. Register, "
$10,000 donation made to replace stolen specialized wheelchair for girl, 4, born without legs
":
A Beverly Hills philanthropist has given $10,000 to the family of Milagros Perez to replace the 4-year-old girl's specialized wheelchair, which was stolen from her Santa Ana home over the weekend, police said.

Cpl. Anthony Bertagna of the Santa Ana Police Department said Thursday that Joyce Brandman gave the family a check, delivered through NBC4, which aired a story about Perez and the missing wheelchair.

Brandman is the president of the Saul and Joyce Brandman Foundation, which gives funding to medical, educational and Jewish causes and organizations, including Chapman University, Cedars-Sinai Medical Center and the Hebrew University of Jerusalem.

Perez was born without legs among several other medical issues. She wasn't expected to survive. Her mother gave her a name which means "miracles" in Spanish.

After the story of Milagros' missing wheelchair appeared on news outlets, donations began pouring in...
Posted by

Donald Douglas
at 4:00 AM
0 comments
Links to this post