Saturday, July 4, 2015
Posted by

Donald Douglas
at 3:40 PM
0 comments
Links to this post


Friday, July 3, 2015
Posted by

Donald Douglas
at 5:10 PM
0 comments
Links to this post


Posted by

Donald Douglas
at 4:42 PM
0 comments
Links to this post


Posted by

Donald Douglas
at 3:55 PM
0 comments
Links to this post


Hey, let's get this party started!

Happy Fourth of July!




Posted by

Donald Douglas
at 1:45 PM
0 comments
Links to this post


Following-up on my earlier entry, "
Fourth of July Terror Warnings
."
From
Michelle Malkin
:
My fellow Americans: If you see something, say something — even if it means CAIR will threaten to sue you.

Multiple federal agencies and the Department of Defense are on high alert for a possible Islamic terrorist attack on U.S. soil this Independence Day weekend. They've increased security at military bases and sent bulletins to law enforcement officials across the country.

The heightened stance comes in the wake of a bloodthirsty ISIS call to arms for Ramadan; multiple jihad outbreaks in Kuwait, France and Tunisia; and the arrest of at least 30 terror plotters in our country radicalized by ISIS over the past year.

"Those who seek to harm this nation and our friends take no holiday," Defense Secretary Ashton Carter warned at a Pentagon press briefing Wednesday with Joint Chiefs Chairman Gen. Martin Dempsey.

"We continue to encourage all Americans to attend public events and celebrate this country during this summer season, but always remain vigilant," DHS Secretary Jeh Johnson implored.

"We all have to be vigilant," former NYPD Detective Sgt. Wally Zeins urged.

"Remain vigilant," House Committee on Homeland Security Chairman Michael McCaul cautioned.

Unfortunately, too much of the nation remains in permanent post-9/11 snooze-button mode. Compounding this collective apathy is political correctness run amok. It's the ever-present handmaiden of terrorism: reluctance to risk offending, unwillingness to stick out one's neck, and feckless aversion of the eyes in the face of existential threats.

The Council on American-Islamic Relations, which was designated by the Justice Department as an unindicted terror co-conspirator in 2007 in the federal prosecution of the Holy Land Foundation and others for providing support to Hamas, has gleefully exploited this cultural weakness — filing intimidation and obstructionist lawsuits left and right against those who have dared to look out and speak up...
Keep reading
.
Posted by

Donald Douglas
at 1:40 PM
0 comments
Links to this post


Posted by

Donald Douglas
at 1:10 PM
0 comments
Links to this post


Posted by

Donald Douglas
at 12:45 PM
0 comments
Links to this post


Posted by

Donald Douglas
at 12:25 PM
0 comments
Links to this post


At KGO-TV San Francisco, "
SUSPECT CONFESSES TO FATAL SHOOTING AT PIER 14 IN SAN FRANCISCO
":
Francisco Sanchez was deported 5 times to Mexico. Records indicate he has 7 felony convictions, most on drug charges

pic.twitter.com/qFlaXDuWXl

— Vic Lee (@vicleeabc7) July 3, 2015
— Vic Lee (@vicleeabc7) July 3, 2015
DHS records indicate ICE put a detainer hold on Sanchez if he was released from SF jail but says the detainer was not honored.

— Vic Lee (@vicleeabc7) July 3, 2015
SAN FRANCISCO (KGO) -- The suspect in the Pier 14 shooting in San Francisco has signed a confession. Sources tell ABC7 News 45-year-old Francisco Sanchez admitted to firing the fatal shot that killed Kathryn Steinle.

Investigators say he is on probation from Texas and has committed offences in numerous states. They say Sanchez did not know his victim and they still don't have a motive for the killing. Police divers have found a gun in the water near the pier. They are carrying out ballistics tests to see if it was used in the shooting.

Steinle was walking arm-in-arm with her father when she was shot Wednesday night. Her father had come to San Francisco to take her back to Pleasanton for a family party.
PREVIOUSLY
: "
Kathryn Steinle, Vibrant 32-Year-Old San Francisco Woman, Murdered by Illegal Alien Suspect Francisco Sanchez
."
Posted by

Donald Douglas
at 11:40 AM
0 comments
Links to this post


Posted by

Donald Douglas
at 11:25 AM
0 comments
Links to this post


Monetary union is in fact the apex dream of European economic integration. It's also a leftist Utopian escape from the Hobbesian state of nature.
They've had a good run, at least.
At the Wall Street Journal, "
Europe's Great Project Faces Its Biggest Challenge in Greek Bailout Referendum
":
The great project that some hoped would eventually create a European superstate faces the biggest challenge of its 65-year history on Sunday, when Greeks vote in a referendum that could decide whether they crash out of the eurozone—and shift the continent's destiny.

The European Union, whose precursor brought the region's nations together after World War II and later helped cement a Western trajectory for countries in the former Soviet bloc, isn't set to break up. But it has stumbled on the path toward what supporters saw as its future: an ever-closer communion of nations.

What has largely brought this about is the instrument seen as its crowning glory: the euro. The discipline required to tie one's national currency to that of Germany and its relentless export machine has taken a toll on political systems and politicians across the eurozone, particularly in the south. It has tested Greek democracy to the breaking point.

"The EU is in deep crisis," Kris Peeters, Belgium's deputy prime minister, told a conference Thursday. "For the first time in its history, it's in danger of becoming a less-close union."

The risk of a Greek exit appeared to grow Thursday as the pivotal vote approached. The International Monetary Fund, whose debt Athens defaulted on earlier in the week, warned that the extended conflict with its creditors had left Greece in even worse financial shape than before, needing an even bigger bailout to remain in the eurozone.

Meanwhile, Greek Prime Minister Alexis Tsipras took to the airwaves to insist that voting against the bailout and its conditions would immediately spur a better deal for the country—the opposite of what his counterparts representing the country's creditors have consistently said.

To be sure, the European idea has been eroded elsewhere. The British have attacked the concept of "ever-closer union" enshrined in the EU treaties and have sought a renegotiation to take powers back to London. Some nationalist politicians, such as Hungarian Prime Minister Viktor Orban, have presented a challenge to the values around which the bloc has been built.

Large-scale immigration—of people inside the bloc and the growing number of desperate refugees from the chaotic regions on its borders—is raising questions about whether the fundamental tenet of freedom of movement is sustainable and is putting pressure on some national welfare systems.

Member states, including Germany and France, are suffering "enlargement fatigue" and are resistant to further outward expansion to new members.

The EU has also been a victim of a generalized backlash against globalization, as many ordinary people see their interests as having been submerged by those of a globalized superelite, of which the well-paid bureaucrats in Brussels are viewed as a prime example.

The long-term rise in unemployment—which in Western Europe in the 1960s averaged below 2%, compared with rates above 20% now in Greece and Spain—is a manifestation of an economic malaise that many voters blame on the EU.

Wolfgang Schüssel, a former federal chancellor of Austria, said the EU is often a scapegoat for more general ills. "Would the results be better without European integration? Would there be more jobs, more investment?" he said in an interview Thursday.

The euro is at once the bloc's most ambitious project and the one that may most seriously challenge European unity...
Continue reading
.
Posted by

Donald Douglas
at 7:00 AM
0 comments
Links to this post


When Dylann Roof murdered the nine black worshipers at the AME church in Charleston, I wrote in one my entries that "Folks, the Democrats have racism hardwired into their physiological being. It's who they are."
Stogie
wasn't pleased
, and he in essence fired the first shot in the Stogie-Donald debates!
The debates are ongoing, for now. Keep checking back for the latest iterations.
Meanwhile, here's Alfonzo Rachel, "Zo thinks the Confederate battle flag was the symbol of southern Democrats. So why are the Democrats ignoring their association with hate and slavery?"
Posted by

Donald Douglas
at 4:00 AM
0 comments
Links to this post


He hasn't been in office very long either.
At the New York Times, "
Alexis Tsipras's Enemies in Europe See Their Chance in Vote on Greece's Bailout Terms
":
ATHENS — Prime Minister Alexis Tsipras says the referendum in Greece on Sunday is simply about whether to agree to what he sees as a bad deal from the country's creditors. Many of his opponents say it is actually about whether Greece wants to stay with the euro.

What neither side typically acknowledges is that the vote amounts to a referendum on Mr. Tsipras and whether he should continue to lead his country. And what is playing out now is a largely unacknowledged campaign to oust him, led as much by his critics among other European leaders and top officials as it is by his rivals in Greece.

By long-established diplomatic tradition, leaders and international institutions do not meddle in the domestic politics of other countries. But under cover of a referendum in which the rest of Europe has a clear stake, European leaders who have found Mr. Tsipras difficult to deal with have been clear about the outcome they prefer.

Many are openly opposing him on the referendum, which could very possibly make way for a new government and a new approach to finding a compromise. The situation in Greece, analysts said, is not the first time that European politics have crossed borders, but it is the most open instance and the one with the greatest potential effect so far on European unity.

"People are realizing they have more and more of a stake in each other's domestic policies," said Mark Leonard, the director of the European Council on Foreign Relations, "and so you see more interference."

Martin Schulz, a German who is president of the European Parliament, offered at one point to travel to Greece to campaign for the "yes" forces, those in favor of taking a deal along the lines offered by the creditors.

On Thursday, Mr. Schulz was on television making clear that he had little regard for Mr. Tsipras and his government. "We will help the Greek people but most certainly not the government," he said.

Even as it backed Greece's call for a new bailout plan to include debt relief, the International Monetary Fund essentially scolded the Tsipras government on Thursday, suggesting that it had mismanaged the economy in its brief tenure in office this year.

Mr. Tsipras had all but promised to step down if Greeks voted yes. But with three days to go before the vote, he went on television on Thursday and left the issue unclear. He said that in the event of a yes vote, he would remain in his "institutional role" and see that the procedures provided for by the Constitution were followed. He complained bitterly about European interference in the vote.

Earlier in the day, Mr. Tsipras's finance minister, Yanis Varoufakis, said unequivocally that he would resign Monday if the country voted yes.

Hopes that a yes vote will undercut Mr. Tsipras or force his resignation have been behind calls by Chancellor Angela Merkel of Germany and most of the top European officials in Brussels to let the referendum play out before engaging in any further talks, analysts say, even though the European officials were at first furious when Mr. Tsipras asked for a vote on the issue.

Nearly the entire top European leadership in Brussels is backing a yes vote...
More at that top link.
Posted by

Donald Douglas
at 3:30 AM
0 comments
Links to this post


Posted by

Donald Douglas
at 1:30 AM
0 comments
Links to this post


Posted by

Donald Douglas
at 1:00 AM
0 comments
Links to this post


Thursday, July 2, 2015
Yeah, because Mexico sends us their very best citizens, or something.
And the suspect was on probation from Texas. Tell Donald Trump to stop telling too much truth!
At the San Jose Mercury News, "
'Random' San Francisco shooting kills 32-year-old ex-Pleasanton resident
."
And at KGO-TV San Francisco, "
FAMILY DEVASTATED AFTER WOMAN SHOT, KILLED IN SAN FRANCISCO
":
@Macys Kathryn Steinle, killed last night in S.F. by an illegal alien. @realDonaldTrump http://t.co/16fpc12Xrj pic.twitter.com/yku1N9CD4G

— Lilac Sunday (@LilacSundayBlog) July 3, 2015
#ICYMI: Man arrested in connection with seemingly random shooting death of young SF woman: http://t.co/mGUoNRVed0 pic.twitter.com/uovnryTVNG

— ABC7 News (@abc7newsBayArea) July 3, 2015
SAN FRANCISCO (KGO) -- The family of a San Francisco woman who was killed in a seemingly random act of violence is mourning her loss as police continue to search for a motive.

On Thursday, police announced that Texas resident Francisco Sanchez was arrested in connection with the shooting death of 32-year-old Kathryn Steinle, known to friends and family as Kate. The 45-year-old has been formally charged with her murder.

Video taken by a person who lived at a nearby apartment building shows bystanders trying to help Kate, who was mortally wounded. Police say the suspect never exchanged words with her before he shot her.

"The victim said something to her family members to the extent that she didn't feel well," said Sgt. Mike Andraychak. "Like she realized something had taken place with respect to her and she fell to the ground."

A police boat dragging sonar equipment cruised slowly around the pier on Thursday morning, looking for the gun that was used in the shooting. Sources tell ABC7 News that a gun has been found in the water. However, ballistics tests will need to be performed to see if the gun was the one used in the shooting at Pier 14.

Police believe the suspect tossed the weapon into the waters after the shooting.

Kate was fatally shot at around 6:30 p.m. as she strolled the pedestrian pier with her father.

"There does not appear to be any connection between the victim and the suspect," said Andraychak. "At this point, it appears to be a random shooting incident."

At the time, there were about a dozen people on the popular pier where thousands walk and jog every day. Police descended on the area after they received numerous 911 calls.

Investigators quickly emailed other officers some cell photos taken by witnesses of the suspect. Police found Sanchez about an hour after the shooting, hiding in front of a restaurant on the corner of Embarcadero and Townsend.

Bartender Noah Bucoy saw the takedown.

"Well, we just saw a guy on the floor and a cop putting a gun at him, and we're like, 'that's pretty serious,'" he said.

Kate lived across the street from where he was arrested.

Police say Sanchez is on probation in Texas. ABC7 News sources tell us he's been deported to Mexico several times and that his rap sheet includes aggravated assault.

In the meantime, the victim's family is in shock. The victim's brother, Brad Steinle, says his sister loved to make people laugh and smile that he'll miss everything about her.

"We loved Kate, and I will love her till the day I die," he said.

All while trying to find the strength to move on.

"I had the best sister," Brad said. "She was the most wonderful, loving, caring person."
Ima hazard a guess that this story won't be leading the network news reports over the weekend.
Idiots like
America Ferrera
and
Eva Longoria
will, but not this evil illegal alien Francisco Sanchez.
Posted by

Donald Douglas
at 8:20 PM
0 comments
Links to this post


The next big thing in leftist protest movements. Spiking food with pins and nails.
Yeah. That ought to win over a lot of political converts.
At the Guardian UK, "
Canadian potato farmers on the hunt for saboteurs: 'These are really evil people'
":
Who is inserting pins and nails into Canadian potatoes? Farmers offer $500,000 reward for tips http://t.co/MSiNSQRvQo

— Guardian World (@guardianworld) July 1, 2015
A picturesque corner of rural Canada best known as the idyllic home of Anne of Green Gables is now fighting for its economic life against a mysterious outbreak of alleged "food terrorism".

The prosperous farmers of Prince Edward Island in the gulf of St Lawrence have offered a reward of CAN$500,000 (US$400,000) for tips leading to the conviction of the person or people who have been inserting pins and nails into potatoes grown on the island. Since the sabotage began last October, tampered Prince Edward Island potatoes have been found in grocery stores in four different Canadian provinces, triggering what has been described as the most serious crisis to hit sleepy PEI since the British conquest of Acadia in 1710.

"It's food terrorism," said island potato farmer Alex Docherty. "The people doing this are cowards, lower than a snake wearing snowshoes. These are really evil people."

The saboteurs are also having a major impact on the local economy, where growing and processing the tubers is a billion-dollar industry, supplemented in the summer by Japanese tourists eager to visit the island's many shrines devoted to their cherished "red-haired Anne".

"Farm families all over the world work so hard to produce food and to have something like this happen is really disheartening," said Docherty, chairman of the Prince Edward Island Potato Board. "We want the cowards caught and dealt with to the full extent of the law."
Posted by

Donald Douglas
at 7:25 PM
0 comments
Links to this post


She's so sweet.

And we're having fabulous moderate temperatures. It's gonna be fantastic weather for Independence Day!




Posted by

Donald Douglas
at 7:12 PM
0 comments
Links to this post


Posted by

Donald Douglas
at 7:00 PM
0 comments
Links to this post


From Rich Lowry, at Politico, "
Sorry, Donald Trump Has a Point
":
I was skeptical that Trump was really running, but now that the boats are burned behind him, watch out. He is set to be Herman Cain squared — an early-nominating-season phenomenon with a massive media megaphone.

As for his instantly notorious Mexico comments, they did more to insult than to illuminate, yet there was a kernel in them that hit on an important truth that typical politicians either don't know or simply fear to speak. "When Mexico sends its people," Trump said, "they're not sending their best."

This is obviously correct. We aren't raiding the top 1 percent of Mexicans and importing them to this country. Instead, we are getting representative Mexicans, who — through no fault of their own, of course — come from a poorly educated country at a time when education is essential to success in an advanced economy.

Trump's comments made it sound as though Mexico is sending us moral defectives. That's not the larger problem (although gangs certainly exploit the border and there are criminals in any population). Immigrants are willing to work. Immigrant men aged 18-65 are in the labor force at a higher rate than native men.

It's just that a lack of education is an anchor around even the hardest-working person in modern America. This is illustrated in an exhaustive report based on government data, by Steven Camarota of the Center for Immigration Studies, which favors a lower level of immigration. I rely on it for the figures that follow.

Immigrants here from Mexico — which has sent more immigrants than any other country for decades — have the lowest levels of education. Nearly 60 percent of them haven't graduated from high school. Only about 10 percent have some college and nearly 6 percent have a bachelor's degree or higher.

By way of comparison, the situation of immigrants from Korea, for instance, is almost exactly reversed. More than 50 percent of them have a bachelor's degree or higher, and less than 4 percent failed to earn a high school diploma.

This puts Mexican immigrants at an inherent disadvantage, and it shows. Nearly 35 percent of immigrants from Mexico and their U.S.-born children are in poverty; nearly 68 percent are in or near poverty. This is the highest level for immigrants from any country (the Philippines is the lowest, with 5.5 percent in poverty).

Fifty-four percent of immigrants from Mexico lack health insurance. A higher proportion of Mexican immigrants uses means-tested government programs than immigrants from any other country—more than 57 percent. As Camarota notes, this is "even higher than for refugee-sending countries like Russia and Cuba." By contrast, the lowest percentage is for immigrants from the United Kingdom at just over 6 percent.

Immigrants make progress on almost every indicator over time, but are still far behind natives after two decades. (The exception to the general progress is welfare use, which actually increases among immigrants here for 20 years compared with immigrants here fewer than five years.)

For all its crassness, Trump's rant on immigration is closer to reality than the gauzy clichés of the immigration romantics unwilling to acknowledge that there might be an issue welcoming large numbers of high school dropouts into a 21st-century economy. If we don't want to add to the ranks of the poor, the uninsured and the welfare dependent, we should have fewer low-skilled immigrants — assuming saying that is not yet officially considered a hate crime...
That's great, c/o
Memeorandum
.
Posted by

Donald Douglas
at 5:15 PM
0 comments
Links to this post


If you've been following
the Stogie-Donald debates
on the origins of the Civil War, one clear pattern you've seen is Stogie's vehement ideological hostility to facts that disprove his cherished yet deranged view that the South stands for all that's good in the world and the North is the epitome of evil. In fact, history does not conform neatly to partisan, ideological debates, and those who want it to must distort the truth to conform to their historical revisionism and partisan blindness.
Frankly, as I've pointed out, Stogie's basically a leftist. He's been deploying classic postmodernist Derridean social constructionist interpretations of the Civil War that are in fact grounded in Marxist and radical libertarian programs. It's pretty sick and disgusting, when you boil down to it. But Stogie's views are based on hatred and unreason. Indeed, he declared me an enemy in the comments at his blog last week --- this after us being good friends online for 8 years!
In any case, Professor Larry Schweikart, the conservative author of the extremely popular anti-revisionist textbook,
A Patriot's History of the United States
, is an historian of the Civil War who's published widely in peer-reviewed outlets, including the
Journal of Southern History
,
Southern Studies
, and
Civil War History
. Schweikart took his professional training at Arizona State University and the University of California at Santa Barbara, two institutions not widely known as bastions of "
Yankee-biased
" historical research.
Another popular book Schweikart's published is
48 Liberal Lies About American History: (That You Probably Learned in School)
. There you'll find a penetrating discussion whereby Professor Schweikart demolishes Stogie's lunatic ravings on the coming of the war. See for yourself at the photos below, "Lie #39: Northern Capitalist Greed --- Not Slavery --- Drove the Civil War":
"It's hard to believe that with all the available evidence a fusion of Marxists and radical libertarians still want to discount the central place of slavery as the causative factor in the Civil War."
Actually, it's not that hard to believe at this point. Stogie's been offering a full repertoire of far-left, radical libertarian fever-swamp talking points that only a tinfoil crackpot could love.
As always, I'll continue to debate in good cheer. So, don't miss future iterations of the Stogie-Donald debates!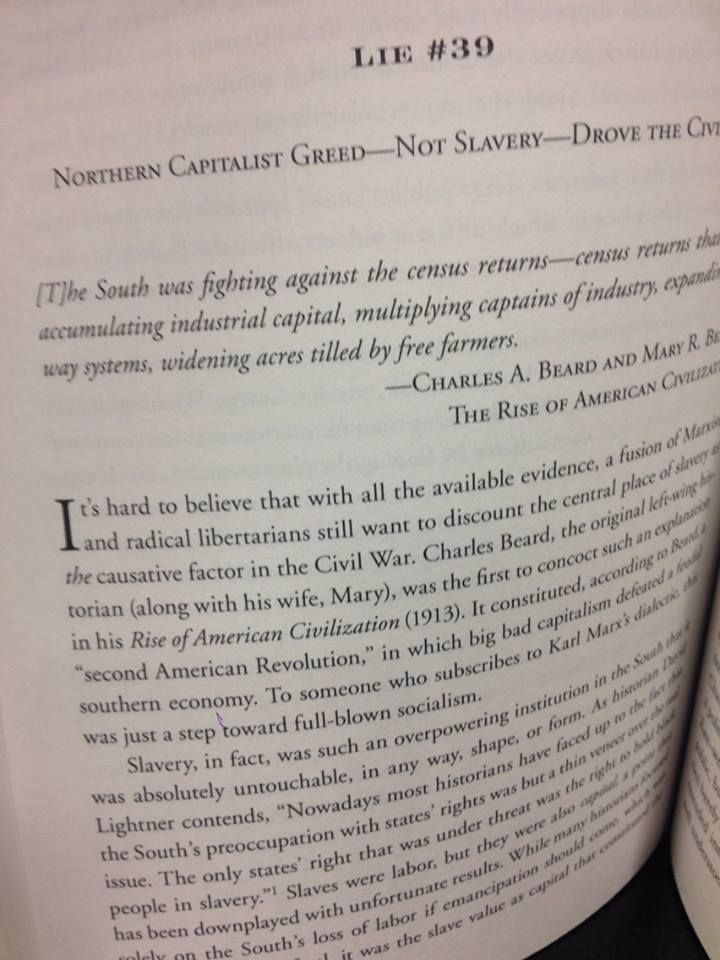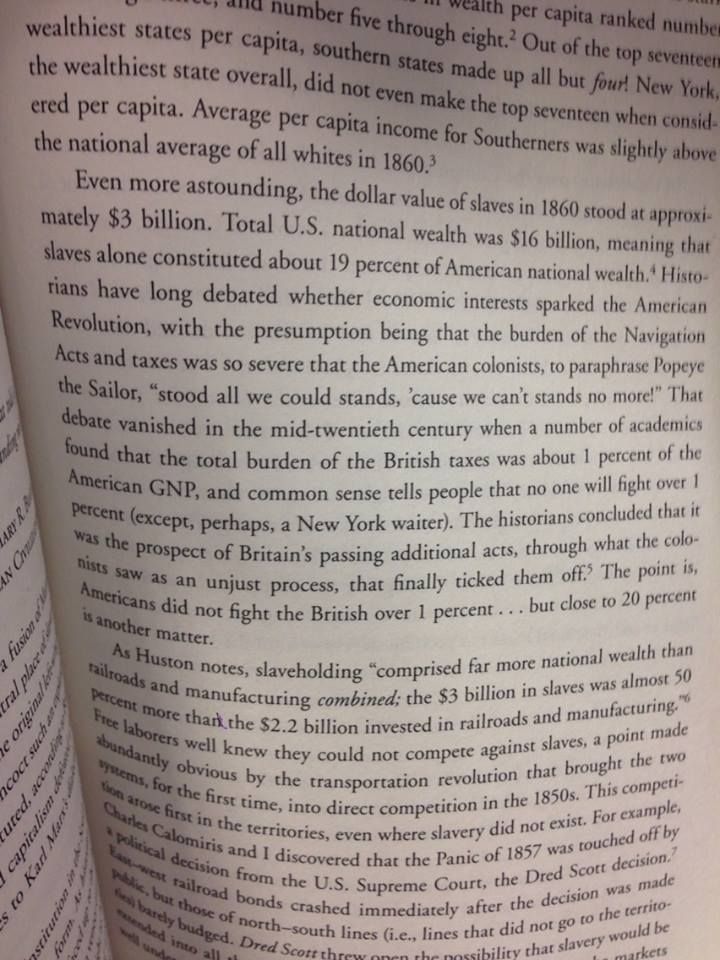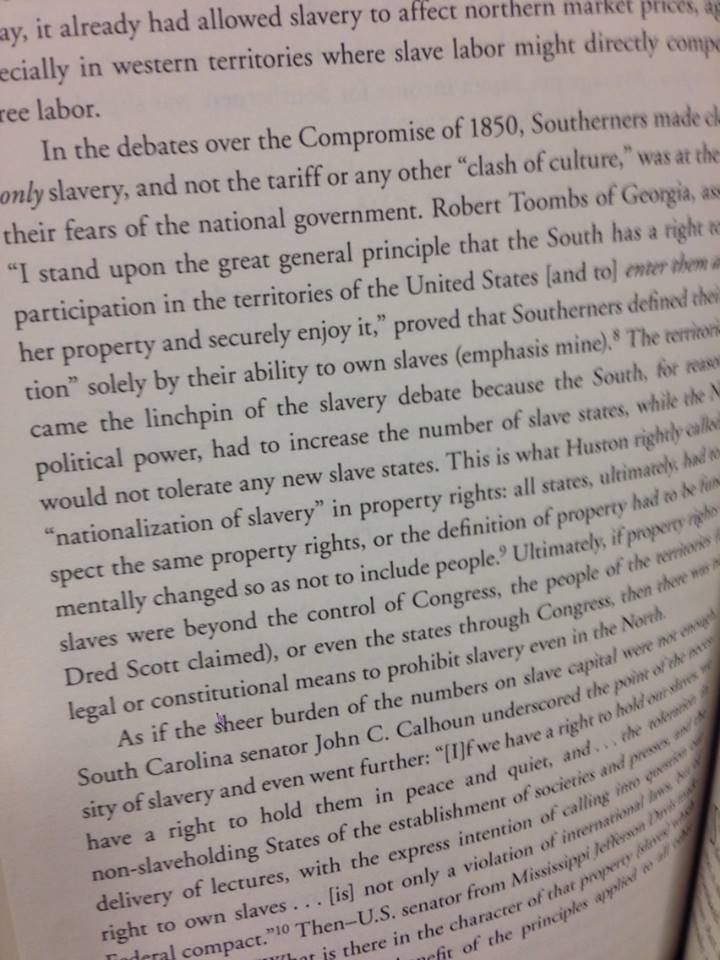 Posted by

Donald Douglas
at 4:15 PM
0 comments
Links to this post


Anastasia Ashley, the world's sexiest surfer, says FHM.




Posted by

Donald Douglas
at 2:59 PM
0 comments
Links to this post


At CNN, "
Poll: Majority sees Confederate flag as Southern pride symbol, not racist
":
Washington (CNN) - American public opinion on the Confederate flag remains about where it was 15 years ago, with most describing the flag as a symbol of Southern pride more than one of racism, according to a new CNN/ORC poll. And questions about how far to go to remove references to the Confederacy from public life prompt broad racial divides.

The poll shows that 57% of Americans see the flag more as a symbol of Southern pride than as a symbol of racism, about the same as in 2000 when 59% said they viewed it as a symbol of pride. Opinions of the flag are sharply divided by race, and among whites, views are split by education.

Among African-Americans, 72% see the Confederate flag as a symbol of racism, just 25% of whites agree. In the South, the racial divide is even broader. While 75% of Southern whites describe the flag as a symbol of pride and 18% call it a symbol of racism, those figures are almost exactly reversed among Southern African-Americans, with just 11% seeing it as a sign of pride and 75% viewing it as a symbol of racism.

Among whites, there's a sharp divide by education, and those with more formal education are less apt to see the flag as a symbol of pride. Among whites with a college degree, 51% say it's a symbol of pride, 41% one of racism. Among those whites who do not have a college degree, 73% say it's a sign of Southern pride, 18% racism.

Efforts to remove the flag or other references to the Confederacy from public places have emerged in the weeks since nine African-American churchgoers were killed by a white man who said he was trying to start a race war in a Charleston church. But the poll shows the public is mixed on how far those efforts should go, and nearly all flag-related questions reveal broad racial divides.

A majority favors removing the Confederate flag from government property that isn't part of a museum: 55% support that while 43% are opposed. And half support private companies choosing not to sell or manufacture items featuring the Confederate flag: 50% are in favor, 47% opposed.

But most oppose other efforts, including redesigning state flags that feature Confederate emblems or symbols to remove references to the Confederacy (57% oppose that), renaming streets and highways named after Confederate leaders (68% oppose that) and removing tributes to those who fought for the Confederacy from public places (71% oppose that)...
The public's quite reasonable on this. Certainly, the flag represents Southern heritage, and it's not inherently racist. But, since it is the flag of the Confederacy, which at base fought the Civil War to protect states' rights to own property in slaves, it's going to be divisive to large numbers of Americans, hurtful especially to blacks, and hence a strong majority of 55 percent say the flag should not fly over government facilities.
I think that's a fair understanding of the issues and that's my position as well. Note that the public sees the efforts to send the Confederate flag down the leftist memory hole as mistaken.
More at
Memeorandum
.
Posted by

Donald Douglas
at 2:55 PM
0 comments
Links to this post


A brutal commentary, form Bill Plaschke, at the Los Angeles Times, "
Angels' Arte Moreno took Mike Scioscia's side, let Jerry Dipoto walk
":
Call it the most expensive beer discount in baseball history.

On that fateful May afternoon in 2003 when Arte Moreno was introduced as the third owner in Angels history, he immediately won friends by reducing the price of his stadium's $8.50 bleacher beer.

"I can do that, can't I?" he charmingly asked at the time.

He can, and he did, and everyone loved him for it. Yet in the dozen years since then, Angels fans have paid a steep price for embracing the man whose tenure has been marked not by cheaper booze, but by chaos and dysfunction.

Moreno bought a team that had just won a World Series, yet he has not been to a World Series since, and has mostly made his mark with misguided decisions often based on impulsive emotions marked by anger.

Moreno enraged the Anaheim faithful by adding the name "Los Angeles" to the team name, even though Los Angeles still barely pays attention. He has attempted to bully the city of Anaheim into a better stadium deal at taxpayer expense. He signed Albert Pujols to a 10-year, $240-million contract that prevented the improvement of his roster in other areas and, even with Pujols' big numbers this year, will never be worth the money. He threw away $60 million to angrily dump Josh Hamilton, an admitted alcohol and drug addict, for briefly succumbing to his illness.

And now, in a move Wednesday that was stunning even for what has become The Not-so-Happiest Place on Earth, Moreno allowed a cultural rift between tradition-bound Manager Mike Scioscia and analytics-minded General Manager Jerry Dipoto to escalate into Dipoto's departure in the middle of a potential playoff season.

That's right, the baseball boss of a team that last season finished with the best record in baseball, and this season was 41-37 and only four games out of first place in the American League West, just packed up and bolted this week with three months left on the schedule and one month until the trading deadline.

And Moreno, who has long supported Scioscia, did nothing substantial to stop him.

Seriously? When is the last time this has happened in baseball? In a sport of old-school values and rituals in which warring front-office factions often hunker down for the good of the team, Dipoto's departure was stunning. But then again, this is how it happens with Moreno's Angels, an organization he runs with such impetuousness it has become the object of national ridicule...
Angels baseball is my main break from the national cultural insanity. It's a bummer that Arte Moreno has to constantly remind people that he's kinda insane himself.
I just want these guys to win. They've got so much talent and promise. They probably would've swept the Yankees had it not been for the controversy yesterday, which needless to say was a major distraction.
Continue reading
, in any case.
Posted by

Donald Douglas
at 8:00 AM
0 comments
Links to this post


From Daniel Greenfield, at
Sultan Knish
:
By 2024, the Republican gay and tranny candidates will be dismissed as tokens while the media oohs and aahs over a vocal and charismatic campaigner for some other love that dare not speak its name.

And that's the point. It has always been the point.

The left does not care about gay rights. If you doubt that, consider how many of the left's favorite Muslim countries have gay rights. The left has recently divided its campaign passions between gay marriage and defending Iran. Iran denies the existence of gays and hangs them where it finds them.

The USSR treated homosexuality as a crime even while it was recruiting gay men as spies in the West. Cuba, the darling of the American left, hated both gays and blacks. The ACLU backed the police states of Communism. If the left supports an enemy nation, the odds are excellent that it is also a violently bigoted place that makes a KKK rally look like a hippie hangout.

To understand the left, you need to remember that it does not care about 99 percent of the things it claims to care about. Name a leftist cause and then find a Communist country that actually practiced it. Labor unions? Outlawed. Environmentalism? Chernobyl. The left fights all sorts of social and political battles not because it believes in them, but to radicalize, disrupt and take power.

The left does not care about social justice. It cares about power.

That is why no truce is possible with the left. Not on social issues. Not on any issues...
Hmm.
He's a little too honest about the left, heh!
Keep reading
.
Posted by

Donald Douglas
at 7:00 AM
0 comments
Links to this post


Posted by

Donald Douglas
at 2:00 AM
0 comments
Links to this post


At the Wall Street Journal, "
Shutdown of Greece's banking system cripples businesses, makes it hard for people to pay bills; just €1 billion in cash left
":
ATHENS—At an automated teller machine underneath the Acropolis, Angeliki Andreaki clutched her debit card with both hands. She pays her bills in cash, and €330 in rent and €39 in telephone bills were due Wednesday.

"Tsipras has turned this country into North Korea," the 83-year-old Ms. Andreaki said Tuesday, shaking her head about Greece's prime minister, Alexis Tsipras. "I can't believe at this age I have to line up to get rationed cash."

She withdrew as much as she could—just €60 ($66)—and went straight to pay her phone bill. She said she would have to come back for five more days to get enough cash for the rent.

This is everyday life in Greece since it shut down its banking system and imposed controls to prevent money from flooding out of the country.

Greece's ruling party continued to say it was offering new compromises to its creditors and urged a "no" vote in Sunday's referendum. European leaders dismissed the overtures as insufficient and said they would hold off on further negotiations until the vote.

The first opinion surveys in Greece since Mr. Tsipras called for the referendum show conflicting results but suggest the outcome could be close.

The freezing of Greece's banking system is the most dramatic moment of the country's five-year debt crisis—and perhaps its most pivotal. Since Monday, Greeks can get only €60 a day at cash machines and can't transfer money abroad.

How long the remaining cash lasts and how unsettled Greeks become will be big factors in Sunday's referendum on creditors' demands for more austerity in exchange for more bailout funds. The tighter the squeeze, the more Greeks might vote "yes" to reconcile with creditors, analysts say.

As of Wednesday, Greece's banking system had about €1 billion in cash left, according to a person familiar with the situation. Even with the €60-a-day limit on ATM withdrawals from Greek's closed banks, "it's a matter of a few days" until the money runs out, this person said.

By Wednesday, many ATMs in central Athens had constant lines of people waiting to withdraw their daily limit. The crunch has suffused the economy. Merchants report lower spending. Wholesalers can't pay for supplies. Importers' foreign counterparts won't trade.

Airline Ryanair Holdings PLC, which flies to Athens, Thessaloniki and other Greek cities said Tuesday it would accept cash for tickets at airports because Greek customers have had trouble paying with debit cards. Ryanair is based in Ireland, and electronic payments abroad are prohibited.

The worst nightmare as far as the business community is concerned has come true," said Constantine Michalos, the president of the Athens Chamber of Commerce and Industry.

Mr. Michalos also has a food wholesaling business, and 65% of his product line is imported. As of this week, his foreign suppliers aren't sending any more, leaving him with about 20 days of remaining inventory. "I have the ability and necessary funds in my bank account to import," he said. "I am not allowed to make an electronic transfer."

Greece's cash crunch hit small merchants first. They are less able to get credit from their suppliers, especially those dealing in perishable products that are continually imported. Christos Georgiopoulos owns a gourmet supermarket in Plaka, a picturesque Athens neighborhood frequented by tourists. He sells Champagne and Russian crab legs.

Nobody is buying. "I haven't had a single customer in two days," he said Wednesday. He is shutting down his shop and says he doesn't know when he will reopen. He gave some crab legs to his workers and is taking some home. "I haven't paid my staff and don't know if and when I will," he added.

Marie Palandjian-Raxevsky, marketing director at Mini Raxevksy, a Greek children's clothing brand, depends on Google Inc. advertisements to generate sales from consumers in Greece and elsewhere.

Late Tuesday night, she got an email saying her Greek corporate credit card, which pays for the ads, was declined. "Now our campaign has completely disappeared," she said.

Who has cash and who doesn't is often arbitrary. Aspasia Kourana, an 80-year-old retiree, was shopping Tuesday at one of Athens's many open-air fruit and vegetable markets, a staple in neighborhood life here known as laiki.

She got her monthly pension of €600 last Thursday. Her daughter withdrew it all the next day.

By Monday, Ms. Kourana's daughter and son-in-law couldn't get more than €60 of their respective salaries out of the bank. "We'll use my €600 pension for the next few days," Ms. Kourana said. "I might even get some cherries for my grandson. He loves them."...
Still more
.
Posted by

Donald Douglas
at 1:00 AM
0 comments
Links to this post


Posted by

Donald Douglas
at 12:00 AM
0 comments
Links to this post